Cedar Lake Food Forest
 Final design of Cedar Lake Food Forest.
The Cedar Lake Food Forest is the larger of the gardens, with constructed footpaths that wander through approximately 5000 square feet. The garden was primarily designed by Samantha Graves, pictured above. It is also on the Leelanau Trail, located in the Leelanau Conservancy's DeYoung Natural Area. American persimmons, northern pecans, and mulberry trees are joined by saskatoons, gooseberries, Dunsbar plums, native wildflowers, tea plants, and much more. Like Cedar Creek Food Forest, it's full of well protected and cared for seedlings and will take a couple of seasons before production really begins.
In 2004, Samantha began researching the correlation between the increased incidence in non-Hodgkin's lymphoma among agricultural families in her region. Specifically, she examined the link between NHL and the use of organochlorines and organophosphates used on cherry orchards. In 2006, she was diagnosed with an aggressive form of the disease.

Cancer-free by 2007, Samantha decided to put her energy into seeking alternative growing methods for orchards and established Healing Tree Farm as a backyard experiement that spring. Today, she writes, teaches, and demonstrates permaculture design techniques. (from healingtreefarm.org)
Cedar Creek Food Forest
The beautiful sign created by Julie Hearne.
The Cedar Creek Food Forest was primarily designed by Levi Meeuwenberg, whose land is adjacent to the garden. It is approximately a half mile north of the Cherry Bend road parking lot along TART's Leelanau Trail, near Cedar Creek, and across the trail from the Orchard Creek Assisted Living Center. It is approximately 2000 square feet, and has constructed footpaths that take you on a loop into and out of the garden from the Leelanau Trail. Cedar Creek Food Forest is anchored by Peach and Apricot trees that are surrounded by lots of jostaberries, hazelnuts, elderberries, blueberries, sweetfern, and much more.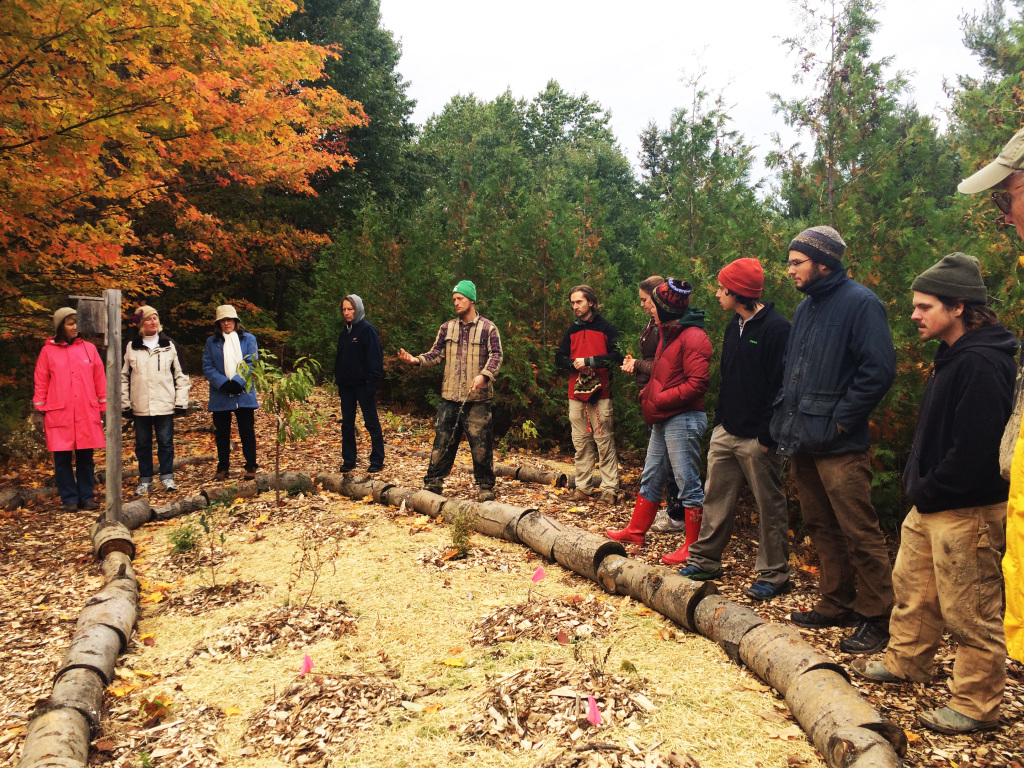 Levi leads a tour of Cedar Creek Food Forest in Fall of 2014
The SEEDS Farm at Historic Barns Park
The stretch of the Buffalo Ridge Trail along the SEEDS Farm is lined with a variety of wild plums, jostaberries, currants, hazelnuts, saskatoons, strawberries, pollinator plants, and much more.